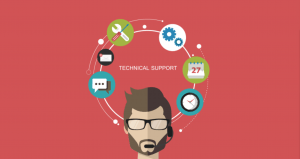 WANTED: IT Ops Engineer – Intern
Concurrent Systems builds software products to enable mobile operators to create advanced subscriber benefit provisioning solutions. 
We are seeking a driven and talented IT Ops Engineer Intern who will work with our Support Team to offer the best service and support to our customers. 
If you are a match to the requirements below send your CV and cover letter to careers@concurrent.systems
We are excited to chat to you!
Our Ideal Candidate:
Our IT Ops Interns will address customer issues and resolve them in a timely and efficient manner by interacting with customers on a variety of channels such as phone, email, and social media, and ensuring that all valid customer concerns are being dealt with immediately.
Minimum Requirements
The following minimum requirements are a prerequisite for applying for this vacancy:
Degree or Diploma in IT, Software Engineering, Computer Science, Engineering or a related field

6 months experience in a similar role is preferable, but graduates to be considered

Fully equipped home office
Job Specification
The successful candidates will be responsible for the following accountabilities:
Periodic standby to shadow 24 hour emergency support calls

Expected to excel in linux and database administration during the period of internship

Learn and follow ITIL processes

Occasionally work closely with Project Manager and Support Manager, to coordinate product rollout activities on customer networks

Document customer upgrade procedures

Perform maintenance on customer sites during low traffic periods, i.e. around midnight;

Occasional assistance with product testing
Skills and Capabilities
The successful candidate will possess the following skills and capabilities:
Strong SQL skills, including writing SQL queries;

Basic C/C++ skills;

Basic IP Network knowledge;

A GSM background will be considered a plus;

The ability to perform operating system installations and software installations;

Ability to read and understand XML and Bash Scripts;

Strong root cause analysis and problem solving skills;

Demonstrated documenting and reporting skills 

Unix / Linux / Solaris certification advantageous